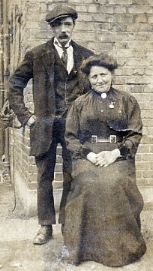 The pictures show Annie Bovett our Great Grandmother with husband Tom Havill and daughters Clara, Emia and Winifred.

They are thought to have been taken in Wimbledon Surrey, shortly after the family's move from Devon.

A great deal of research has been done on the family by Maurice Bath in New Zealand and the bulk of the page map below links to this.